UK nuclear developers have committed to act on the recommendations of the final Weightman report on lessons from the Fukushima crisis.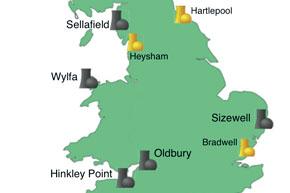 Mike Weightman, the UK's chief inspector of nuclear installations, last week delivered his final report highlighting 38 areas where government, industry and regulators can learn lessons from the Japanese experience.
Weightman concluded that an analysis of the Fukushima Dai-ichi accident revealed no fundamental safety weaknesses in the UK's nuclear industry, but that the industry can be made even safer. The report expands on the interim report released in May, which found 25 areas for review.
Recommendations relevant to the nuclear industry cover areas such as:
Off-site infrastructure resilience
Multi-reactor sites
Spent fuel strategies
Site and plant layout
Fuel pond design
On- and off-site electricity supply
Coolant supplies
Combustible gas management
Emergency control centres, instrumentation and communications
Human capabilities and capacities
Weightman said: "I remain confident that our UK nuclear facilities have no fundamental safety weaknesses. The Office for Nuclear Regulation already requires protection of nuclear sites against the worst-case scenarios that are predictable for the UK. But we are not complacent. Our philosophy is one of continuous improvement. No matter how high our standards, the quest for improvement must never stop.
"We will ensure lessons are learned from Fukushima. Action has already been taken in many cases, with work underway to further enhance safety at UK sites."
The groups planning new nuclear plant in the UK welcomed the report.
EDF Energy chief executive Vincent de Rivaz said: "We will review his findings in detail and build them into our plans.  We have already committed to implementing his recommendations for us in full.
"We welcome Dr Weightman's reaffirmation that 'UK nuclear facilities have no fundamental safety weaknesses'. He also said that the industry had responded 'constructively and responsibly' and specifically that EDF Energy had shown 'appropriate commitment' to address his recommendations."
Alan Raymant, chief operating officer of Horizon Nuclear Power, also welcomed Weightman's findings.
"We also welcome the fact that the assessment of UK reactor designs was put on hold to ensure the report's findings could be incorporated," Raymant said. "The UK nuclear industry has a strong track record of learning safety lessons and this should always be the priority. We will of course review the report in detail, but we agree with all the recommendations relating to new build and intend to incorporate them, from the development stage of our project onwards."
For further information, and to download the complete report, see http://www.hse.gov.uk/nuclear/fukushima/final-report.htm