The University of Sheffield AMRC is expanding its research capabilities to include castings technology, after acquiring internationally renowned company Castings Technology International (CTI) at the Advanced Manufacturing Park in Catcliffe, Rotherham.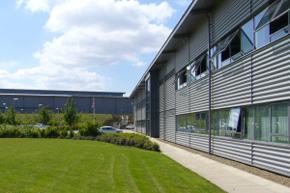 The University of Sheffield has acquired the buildings and assets of CTI and Titanium Castings UK Ltd (TCUK) including the ongoing research work, commercial contracts and consultancy.
As part of the agreement, staff at CTI and TCUK are transferring to the employment of a University of Sheffield subsidiary company.
The new addition to their portfolio will allow the AMRC to offer state-of-the-art castings technologies to its industrial partners, adding breadth and depth to the University's collaborative research capabilities.
Professor Keith Ridgway CBE, who founded AMRC, said: "The AMRC plays a major role in supporting the UK's advanced manufacturing industry and with it the economic growth and skills which are so vital to our economy. Our aim is to work with our industrial partners to be at the forefront of advanced manufacturing research, helping companies to address real manufacturing challenges with an understanding of the full manufacturing process from design and prototyping through to materials and manufacture.
"Acquiring CTI will complement our existing strengths and provide another important aspect to our work with industry. Set in the context of the AMRC's overall vision to be the world's leading manufacturing technology research centre, CTI is a core element which sits alongside the AMRC with Boeing, Nuclear AMRC, Design Prototype and Test Centre, apprentice Training Centre, Namtec and the reconfigurable Factory 2050."
Professor Richard Jones, Pro-Vice-Chancellor for Research at the University of Sheffield, said: "We are delighted that CTI will be part of our AMRC, representing a significant investment by the University of Sheffield into driving economic growth by linking our academic research to the needs of industry.
"The new centre will develop techniques that will enable the UK sector to compete in current markets and, more importantly, provide the resources to take castings into new safety-critical areas such as aircraft structures. The integration of CTI will bring about substantial leaps in casting technology, comparable to those that the AMRC has made in areas such as machining and composites. Sheffield is the home of engineering, and we're thrilled to be adding this to our portfolio."
CTI chairman Tom Westley said: "This is a real win-win situation for our members and staff. Our members will continue to receive all the services they have always enjoyed, but with the much enhanced resources of the University of Sheffield to support an ambitious expansion of our activities on the AMP.
"Foundry member companies will benefit from a strong and regular dialogue with castings users from all over the world. Major OEMs will be working with us to ensure developments are focused to their needs and take full advantage of these world-class facilities.
"The staff will benefit from an accelerated investment programme, which would not have been possible had CTI remained on its own."