Rolls-Royce SMR has signed a £3.7 million contract with Sheffield Forgemasters to enable the first development forgings to be manufactured to support the deployment of the company's compact power stations.
The forgings form part of Rolls-Royce SMR's work to achieve regulatory approval, and will allow both parties to understand and develop manufacturing procedures and techniques, to de-risk and accelerate the important first production of these vital components.
Sheffield Forgemasters is the only UK company able to produce these significant forgings, with Rolls-Royce SMR abl to benefit from Sheffield Forgemasters' decades of experience and delivery abilities.
This is the first major supply chain material contract enabled by the coming together of grant funding from UKRI with private capital, to form the Rolls-Royce SMR business. This investment will contribute to the ability of the UK to deliver on its decarbonisation objectives and long-term export opportunities through the Rolls-Royce SMR programme.
Matthew Blake, Rolls-Royce SMR's chief engineer commented: "Sheffield Forgemasters are world leaders in forgings and castings, and we are incredibly fortunate to have their experience to support our SMR programme. This contract enables us to work in parallel, testing manufacturing processes and procedures while developing the technology, which will allow us to move at pace when we reach the deployment stage. We are committed to delivering the SMR fleet with a focus on maximising the UK's supply chain and this significant contract is just the start as we look to re-energise the vital UK nuclear supply chain."
David Bond, CEO of Sheffield Forgemasters, said: "These forgings will be integral to the overall evaluation of routes to manufacture for the Rolls-Royce SMR programme. The forgings will require highly detailed simulation work and analysis from our RD&T team to deliver components which will meet exacting nuclear-grade standards. We are very excited to be working with Rolls-Royce SMR on the first deliverables for this project."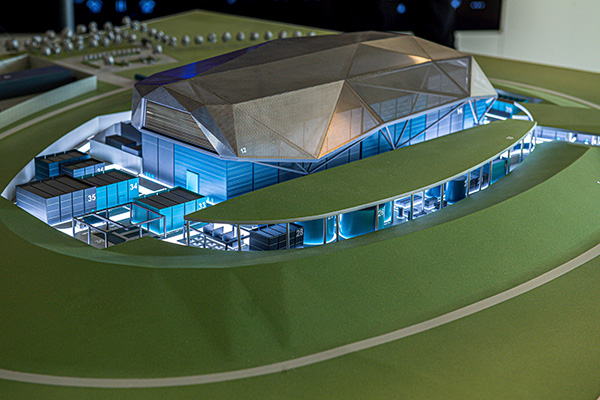 The new Rolls-Royce SMR business launched in November, with an event hosted by the Nuclear AMRC. Rolls-Royce, investment group BNF Resources UK and US-based energy group Exelon Generation will together invest £195 million across a period of around three years. The new company has also announced a further £85 million investment from the Qatar Investment Authority.
Sheffield Forgemasters is a founding tier one member of the Nuclear AMRC, and signed an initial memorandum of understanding with Rolls-Royce SMR in early December.
The Rolls-Royce SMR is a compact power station design, producing 470MWe from a Gen III+ pressurised water reactor. This proven nuclear technology will be coupled with a unique factory-made module manufacturing and on-site assembly system to reduce the cost and schedule risk of nuclear new build.
The entire Rolls-Royce SMR plant is being designed as a number of modular sub-assemblies which will be manufactured in factories then transported to site for rapid assembly inside a weatherproof canopy.
Initial development was carried out by the UK SMR Consortium, a collaboration of Assystem, Atkins, BAM Nuttall, Jacobs, Laing O'Rourke, NNL, the Nuclear AMRC, Rolls-Royce and TWI. The 18-month first phase was backed by an initial £18 million match-funding investment from the government's Industrial Strategy Challenge Fund, and ended in early 2021.
The Nuclear AMRC will continue to play a key role in developing advanced manufacturing capabilities, and helping prepare critical components for commercial production in the UK.